The Death of the Penny
On February 4, the Royal Canadian Mint and financial institutions across Canada stopped distributing the Canadian one-cent piece. Production on the penny had ceased in May of 2012 looking forward to February 2013 when the penny would no longer be sent out to clink around in the pockets of Canadians. On that same day in February, the Canadian Mint began melting down the first of the 35 billion pennies in circulation.
One-Cent Worth of Patriotism
All Canadian coins minted between Confederation (1867) and 1935 have included the proud maple leaf but the penny has always shown it like no other. The first penny was produced on January 2, 1908 and was struck by Countess Grey at the official opening of the Ottawa branch of the Royal Mint (renamed in 1931 to the Royal Canadian Mint). The modern 1-cent coin that features two maple leaves on the same twig was designed and created by G.E. Kruger Gray. It was first used in 1937 and has remained unchanged until 2013 with the exception of the 1967 centennial coin, which used a rock dove, designed by renowned Canadian artist Alex Colville.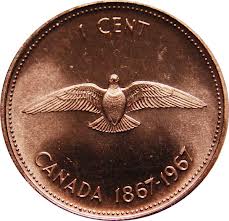 It Costs to Save Pennies
The beloved and seemingly pointless one-cent coin costs Canada 1.6 cents to produce and therefore the mint will melt down the 82-million kg of steel, nickel and copper-plating that remains in circulation and selling it.
Finance Minister Jim Flaherty is indeed correct to say that eliminating the penny will save Canadian tax-payers but his estimated 11 million dollars savings per year in production costs will actually result in a less impressive but still worthy $4 million savings. The cost to redeem the 6 billion coins will cost the Canadian government about $80 million over the next 6 years. The $80 million expense is a result of about $53 million to redeem the face-value of the 6 billion pennies jangling about in people's pockets, and an impressive $27 million in administration, handling, and little signs that will be placed on fountains throughout Canada informing romantics that wishes now cost a nickel or higher.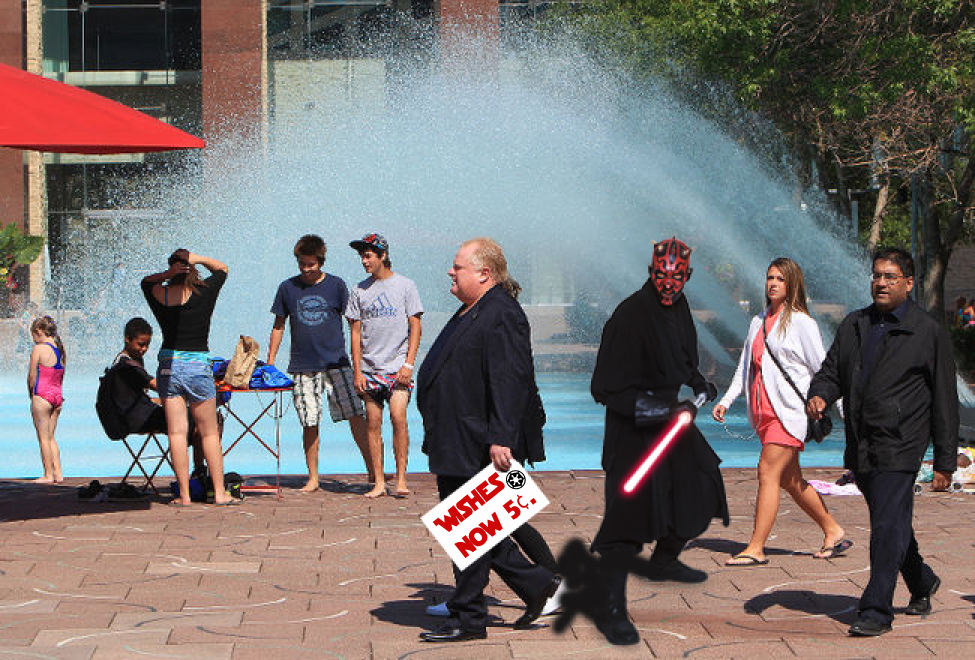 Toronto's Mayor, Lord Ford at Edmonton's City Hall. On an earlier trip, Ford had become enamoured with Edmonton's Skating Rink by Winter, Wading Pool Fountain in the Summer. Ford visited his favourite versatile fountain with a little present. Even with tight security, Ford was overheard whispering to the fountain, "join me and we can rule the fountains."
Recycling the zinc and copper from melted-down pennies will bring in about $42.5 million in revenue. That, and the additional savings of $11 million per year, Canada will walk away with a savings of about $4 million per year over the 6 years it is expected to collect most of the circulating pennies.
A Pretty Penny
It will be great to save all that money in producing the penny but perhaps the Canadian government is missing an opportunity to make a little extra.
When King Edward VIII abdicated the throne in order to marry American divorcee Wallis Simpson, the Mint was just finishing up the tools to produce the new 1937 penny with the new king's portrait. While the 1936 penny still had the image of King Henry V, the 1937 penny recycled the 1936 penny die along with a new portrait of the abdicating king's on the reverse. To differentiate between the 1936 and 1937 pennies, the mint included a dot below the 1936 date to mark it as the 1937 penny.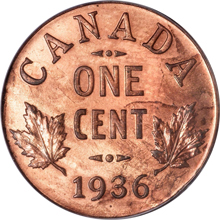 This of course makes this penny quite rare, there are only seven known rare dot coin specimens known to exist, as all other specimens are believed to have been melted by the mint. It might be worthwhile for the Mint to hire some students to pick through the pennies they collect and pull out any rare ones. I'm not a coin collector but being a comic book collector, it would horrify me to know that Marvel was collecting any comics they found and were recycling them. The idea that they would destroy an Avengers #4 amongst a heap of Alpha Flights sends me into a tizzy.
Now, that's crazy-talk you might say but these precious 1937 pennies are worth a pretty penny (I couldn't resist). These King Edward VIII pennies fetch as much as $402,500. In other words, ten of these little coins equals the $4 million dollars the Canadian government is going to save. Not to mention the other rare pennies they'll come across. Now that's worth enough to have a guy hand sort them.
Because the Royal Canadian Mint still doesn't know what they're going to do with any American pennies they collect, it might be possible to separate all those American pennies at the same time and let the U.S. redeem them from us. Ca-ching!
A Fishy Situation
While the beautiful koi swimming in Chinese restaurant ponds might want to take a deep figurative breath that they will be safe from copper toxicity, and only in danger of getting pelted with monetary projectiles, they will be disappointed to learn that pennies aren't the end of copper coins. In fact, every Canadian coin, except the $1 coin, is made of copper of varying quantities.
Pennies are Icky
While the death of the penny might fill Canadians with varying degrees of sentimentality, remorse and reluctant acceptance, it will certainly be relief for one group of Canadians. People with cuprolaminophobia will find solace in the death of the copper sibling of the coins that fuel their phobia. While people suffering from cuprolaminophobia are repulsed by all coins, the copper coin seems to bring far greater dread, even to those with mild cases. While some might read into that as some racial profiling, the truth is that this is often developed in childhood. the taste of a copper coin brings to mind the taste of blood and this connection seems to have remained with many people throughout their lives.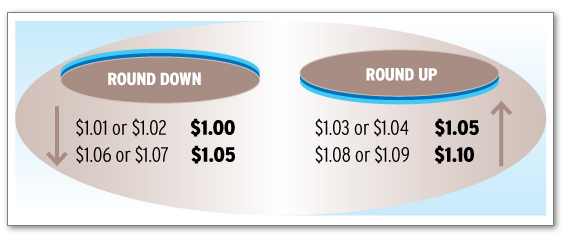 Other (sort of) True Canadian Penny News:
Thoughts will now be a nickel but a lucky penny will still be a lucky penny, perhaps even luckier for it's rarity.
Penny (played by Kaley Cuoco who dated Canadian actor-model Kevin Zegers) from the Big Bang Theory, the television show that follows the "Big Bang Theory Theme" by Canadian super-group the Barenaked Ladies, will still remain in circulation.
Penny from Inspector Gadget, co-produced by Canadian animation giant Nelvana, is still no longer in circulation.
Penny Marshall, Television's Laverne of Laverne and Shirley, worked at a fictitious Milwaukee brewery called "Shotz Brewery". Shotz was based entirely on a Labbatt's/Molson-esque brewery and had nothing to do with the fact that Milwaukee was once the home to four of the world's largest beer breweries (Schlitz, Blatz, Pabst and Miller), and was the number one beer producing city in the world for many years…um…ah…because Canada invented Beer…and Laverne and Shirley were Canadian spies in the War of 1812.
Other countries have also nixed the penny, including Australia, Finland, New Zealand, Norway, the Netherlands and Sweden.
Now that Canada has eliminated the one-cent coin, there is still the issue of the United States continuing to use the penny. What to do? What to do? I can recall vividly, traveling and living in the U.S. and I can remember times when some cashier went out of their way to make me feel worthless, a bit of a penny one might say. These were times when I was making a purchase and a lowly Canadian penny was mixed in with coins! The cashier would give me a look of disgust, segregate my Canadian penny, and push it back across the counter as if I had attempted to pull one over on her. Old ladies would clutch their purses and I would be treated like some penniless drifter.
Well now, here we are with some pretty strong currency and no longer using that lowly penny. I suggest we ready our index fingers and, while continuing to be polite because we should be better than to make them feel ashamed about their little Lincoln-headed (I think the other side is a radiator), but push it back across the counter all the same. Pay-back's a bitch, eh?
Goodbye one-cent coin. You will be remembered like the one, two and one thousand dollar notes and you will be sort of missed.
Posted in

Canada, Canadian Art, Canadian Money, Canadian Wlidlife, Canadiana, Historical, Ottawa, Politics, Pop Culture
Tagged

Canada, Canadian economics, Canadian penny, Canadiana, collectable coins, cuprolaminophobia, finance minister jim flaherty, fountains, galactic empire, koi, one-cent coin, royal canadian mint
1 Comment