I'm not exactly sure what the Oilsands look like and for some reason I think of the quicksand episode of Gilligan's Island. Perhaps its more like Lawrence of Arabia and the Oilsands are just too friggin' hot to think straight. Regardless, it is a shame when a group is so oblivious that it doesn't seem to understand how offensive it is. Kind of like when your racist grandparent talks out loud about the nice negro doctor. The Canada Oilsands Community, one of many Canadian oil advocates, ran this ad last month to the chagrin and confoundedness of Canadians everywhere.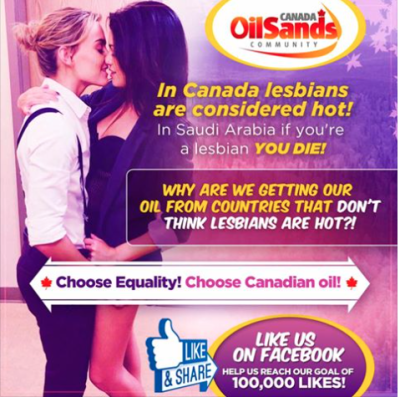 Canada Oilsands Community founder Robbie Picard, an  openly gay (strange-but-true) Oilsands activist was shocked at the backlash. It seems that no matter how many times it's pointed out to him, he defends his mistake with an explanation of how he thinks everyone is hot. Picard explained, "When I say lesbians are hot, I don't think there is anything wrong about saying that. I think all lesbians are hot and I'm not opposed to putting a picture of two guys up there. It was just to strike up a conversation. I find anybody is hot. I think two women kissing is hot. I think that something that is part of the fabric of our city — that we can do whatever we want in our country — that is hot."
While I can agree that Mr. Picard is not all wrong about our freedom to make asses of ourselves, he has managed to once again offend without seeming to realise how. He included people in his hot designation, but he failed to give a nod or shout-out to hotdogs, Red Hot candies and has slighted the chili-pepper growers, flat-out offending India, Mexico and Trinidad. In a press release, The Red Hot Chili Peppers have agreed to headline at the upcoming Hotchilipalooza raising money for Robbie Picard's sensitivity training (This might not be true).
Once the smoke cleared from his absurdity-bomb, he went on about the Oilsands and buying Canadian oil. Unfortunately, now we can't help thinking about hot lesbians and can't focus enough on the details of why we should buy Canadian Oil.
I expect the next ad should run with a picture of Mr. Picard holding up his ad beside the caption that reads, "In Saudi Arabia you would get your head chopped off for running an ad like this. In Canada, it probably won't even affect your career."
And remember, hot lesbians buy Canadian Oil, and so should you.