Supergirl Laura Vandervoort signed her Canadian Culture Thing MapleLeafForever Stamp…ages ago! But hey, even though it predated this blog, it's still cool.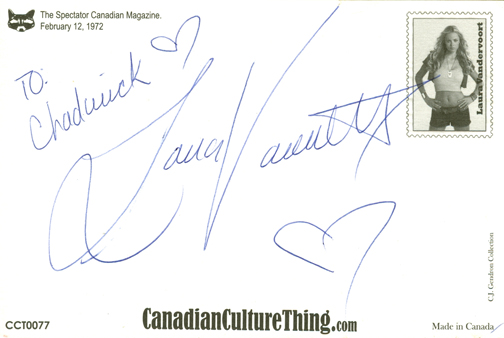 Toronto-born actress Laura Vandervoort, actively acting from the age of 13, has appeared in many children's shows like Goosebumps (1997-1998) and Are You Afraid of the Dark? (2000) until finally getting her biggest break in the WB's Smallville. Laura played Kal-El's (Superman's) Kryptonian cousin Kara, subtly known as Supergirl beginning in the 7th season (2007) of the series until the finale of season 10 (2011).
Becoming Sci-Fi's It-Girl, Laura was cast as Lisa, an alien visitor in the ABC reboot of V (2009-2011) along with fellow Sci-Fi It-Girl Morena Baccarin of Firefly (2002-2003) who worked with Canadian actress and MapleLeafForever Stamp, Jewel Staite.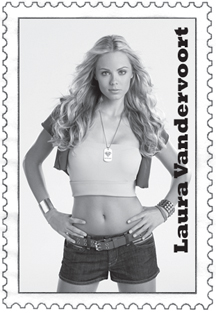 Laura Vandervoort has starred in countless Television Shows like Instant Star (2004-2008) and Movies like Into the Blue 2: the Reef (2009) as well as the voice of Mary-Jane Watson in the Spider-Man: Edge of Time videogame (2011). Up, up and away!